Description
Reviews
Shipping & Returns
The Alienware 17 is thinner and lighter than any 17" laptop we've created before, but that doesn't mean we skimped on performance. It's crafted with aerospace-inspired carbon fiber filled surfaces that add stiffness and durability, copper heat sinks that enable proper cooling and now offering an optional Ultra HD 4K display built with IGZO (indium gallium zinc oxide) technology. Powered by high-performance 6th gen Intel® Core™ processors with Dynamic Overclocking on K-series CPUs, and offering a new USB Type-C™ port with support for SuperSpeed USB 10 Gbps (USB 3.1) and Thunderbolt™3 technologies, the Alienware 17 is designed to give you the best experience on an impressive screen.
When paired with the optional Alienware Graphics Amplifier featuring a desktop GPU of your choice, you can transform the Alienware 17 into the ultimate at-home entertainment experience. Just plug in and get lost in the vivid display and massive performance boost of desktop-class graphics.
Introducing Intel's best processor ever: Heroic experiences await thanks to the stunning graphics and astounding performance of new 6th generation Intel® Core™ processor based devices running Windows 10 with DirectX 12. The new standard for PC performance has arrived with Intel® 6th Gen Core™ processors! This blazing fast, feature packed processor has built-in security and is ready to take your productivity, creativity and 3D gaming to the next level.
---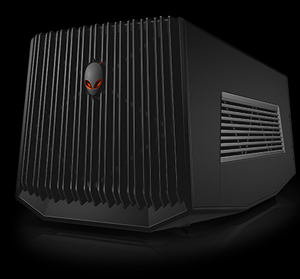 Amplified graphics. Advanced gaming.
Plug in. Buckle up: Supercharge your at-home gaming with the optional Alienware Graphics Amplifier. Simply plug in the Alienware 17, reboot and enjoy a fully expanded desktop experience with advanced 4K NVIDIA ® or AMD- enabled graphics, multiple-monitor display and more connectivity with a built-in 4-port USB 3.0 hub.
Killer combo: Get desktop graphics performance when you pair a sleeker, space-saving Alienware 17 with the Graphics Amplifier. Place your amp out of the way and connect with a single cable for ultimate flexibility with maximum immersion.
Extreme built-in graphics options: Blow-your-doors-off gaming excitement comes jam-packed into the Alienware 17 itself, too, with NVIDIA® GeForce® GTX 970M or 980M graphics card options and up to 4GB of GDDR5. These are the highest class of mobile graphics cards available. Now the most graphics-rich games can be played at their quickest with support for graphics cards requiring up to a whopping 100W of mobile graphics power. By increasing your graphics performance the Alienware Graphics Amplifier can unlock the exhilarating world of VR gaming on your notebook. In order to have the best Virtual Reality experience we recommend using Alienware with the specs recommended by HTC and Vive.
---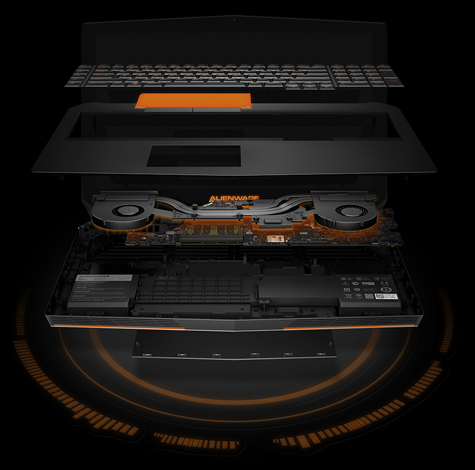 Cutting edge craftsmanship.
Carbon fiber craftsmanship: Inspired by aerospace technologies, the carbon fiber composites in Alienware laptops deliver a unique rigidity and high stiffness-to-weight ratio. The result is a whole new tactile experience.
Sleek. Solid. Aluminum.: Displays this good require serious protection, so we encased them in an anodized aluminum shell that matches the hinge strength and structural rigidity and boasts a new, iconic design.
Cooler with copper: Churn out maximum power while keeping your cool. Copper thermal modules allow your graphics cards and processors to perform at the highest level while the heat pipes and blocks prevent overheating.
Guaranteed up to 10 million keystrokes: Experience the sensation of uniform feedback with the reinforced steel plate of our TactX keyboard, which also protects internal components from debris. Launch shortcuts to applications or even macros in-game, thanks to nine customizable keys capable of up to 19 unique commands, programmed via the Alienware Command Center software.
Rigorously tested for robust durability: Alienware laptops are tested to stand up to tens of thousands of functions : power button pushes, hinges opening and closing, twists, turns, and up to 1 million touchpad strokes. We test hard so you can game hard, reliably.
---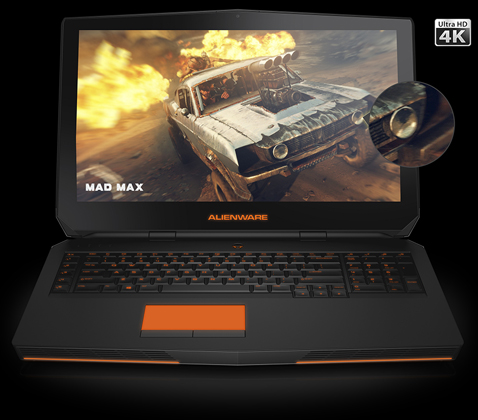 Built for intense gaming.
Lean and mean on a big screen: Enjoy IPS (in-plane switching)-based LCD technology on an expansive 17" screen that offers stunningly clear color and clarity. Get up to pixel density for astonishing color clarity, and extra wide viewing angles.
Sound and fury: Rich, impressive audio is powered by Klipsch and Creative SoundBlaster X-Fi technology. Visually connect with comrades and competitors with a 2.0MP Full HD webcam and let the banter flow with a dual microphone array.
---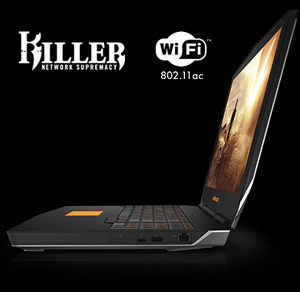 Full-throttle gaming.
More power: Alienware 17 automatically overclocks and monitors internal temperatures to keep your system running cool when the action is hot and deliver performance precisely when you need it.
The family powerhouse: Outfitted with the latest generation of up to a Quad-Core 6thgen Intel® Core™ processor with Turbo Boost on an Intel® HM170 Chipset for full-throttle action, it is equipped for advanced power and a seamless gaming experience.
Supercharged gaming: The processors in Alienware 17 offer Dynamic Overclocking to kick in extra power when your game demands it, so you won't miss a beat.
Connect and conquer: The combination of the Killer™ Wireless-AC 1535 with the Killer™ E2400 provides unprecedented speed, intelligence and control to your gaming experience. Download faster, stream better, and enjoy smoother gaming with Killer DoubleShot ™ Pro and Advanced Stream Detect™ technology. Killer DoubleShot Pro provides the ultimate networking experience by smartly having Killer Ethernet and Killer Wireless work together to determine which network traffic should run on each interface. This provides the absolute fastest possible gaming and streaming experience. Plus, all Alienware 17 systems come with Bluetooth 4.1 technology.
---
Extend your reach.
Mobility meets connectivity: Hook up your favorite accessories with the new superfast USB Type-C ™ port, offering speeds 2x as fast as USB 3.0 with SuperSpeed USB 10Gbps (USB 3.1).
Blow your hair back: Use your USB Type- C™ port as a Thunderbolt 3 port, and experience up to 40Gbps; drive 4K displays as if the port were a Thunderbolt or DisplayPort. Or maximize your options by daisychaining your Thunderbolt devices together.
Better, faster, clearer: Run 4K resolution content @60Hz using the new HDMI 2.0 port, for better resolution, smoother graphics and an overall upgrade in awesomeness.
---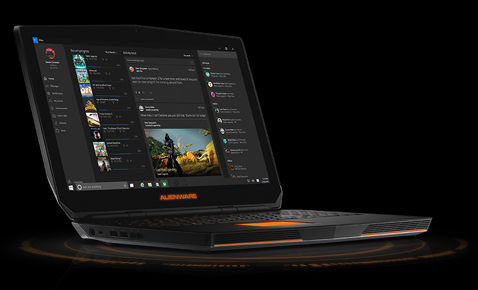 Unleash your rig's greatest capabilities with Windows 10
DirectX 12: Break down boundaries and step into your game with graphics more stunning than ever before with the new DirectX 12 technology. Windows 10's API is armed with new features that will provide quicker processing in real time to generate higher FPS and richer graphics as well as reduced power consumption to play longer.
Expand your community: Xbox app lets you see what your friends are playing now, chat with your community, and track your scores and achievements. Plus, Game DVR* lets you record your best hero moves for sharing with friends.
Play more games: The greatest Xbox games are now at your fingertips, and you will get built-in support for the Xbox controller and even stream Xbox One games to a Windows 10 PC, laptop, or tablet anywhere in your home. Even the cross-device barriers are down – start a game on your PC and move to your Xbox to continue playing.
Start menu – back and improved: You will game like an expert from the get-go since your Windows Start menu is back in an expanded form. Plus, all your pinned applications will carry over so your experience is familiar, productive and better than ever.
The speed you need: Windows 10 starts up and resumes fast so there's no buffer between you and your game. Even your updates reach you as soon as they are available so you always have the latest and greatest features.
---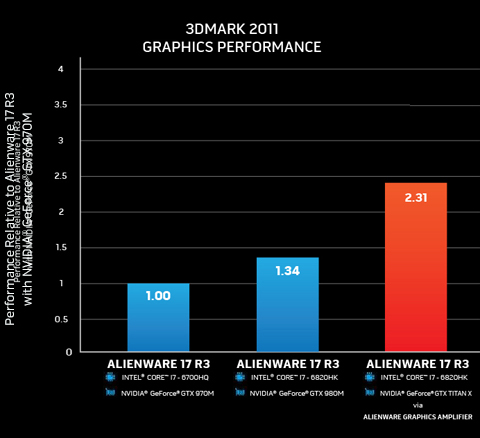 ---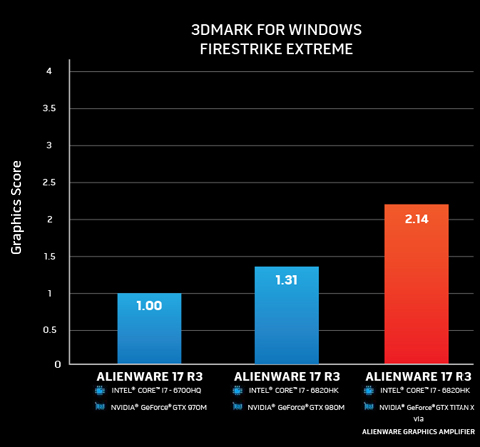 ---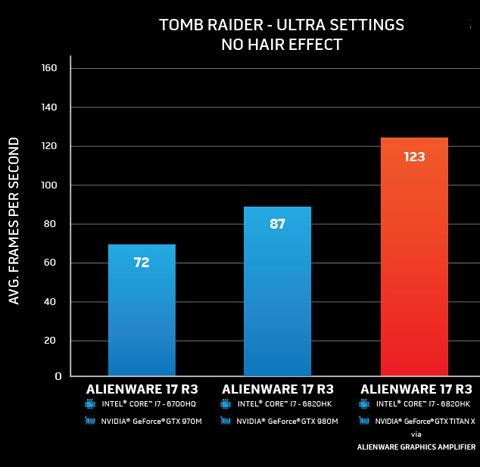 ---
Command Center 4.0
Take control of every aspect of your Alienware PC and Graphics Amplifier's performance with stunning ease and fine-tuned adjustability.
---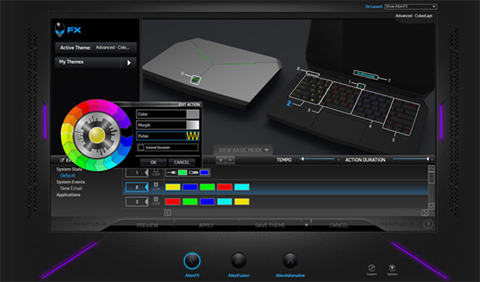 AlienFX
Program and control lighting zones specifically developed to be controlled by you. That means the lights are designed to react to your every move in real time. Set triggers. Make your system glow and blink. Morph your lights from one color to the next. The choice is yours.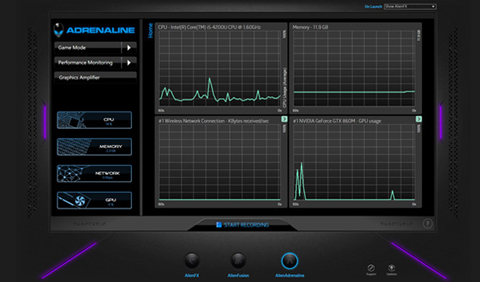 AlienAdrenaline
Automatically load your pre-chosen display settings with Game Mode, options, and observe and record GPU and memory clocks to get a real time status of each device or an archival record to review how the performance was affected during a particular test. Monitor CPU overclocking status and the Graphics Amplifier and create custom.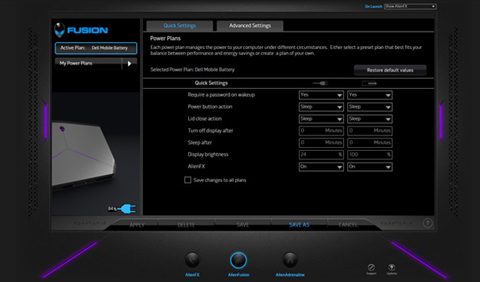 AlienFusion
Manage all of your PC's power with one easy program. Alter your settings to extend battery life by dimming lights across separate areas, activating hibernation options or shutting down easily. It's all under your control.
---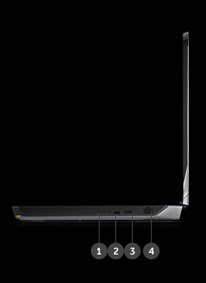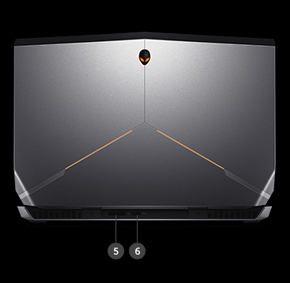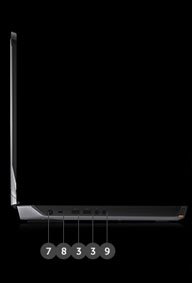 External Chassis Connections
1. 3-in-1 Media Card Reader
2. Thunderbolt™ 3 Port (USB Type-C™ with support for SuperSpeed USB 10Gbps, 40Gbps Thunderbolt, and DisplayPort)
3. SuperSpeed USB 3.0 Ports
4. RJ-45 Gigabit Ethernet IPv6
5. Alienware Graphics Amplifier Port
6. HDMI (2.0 Output with NVIDIA /1.4 with AMD) Output
7. Power/DC-in Jack
8. Noble Lock port (cable and lock sold separately)
9. Headphone 1/8" Port (retaskable for Microphone/Line-In analog audio input)
---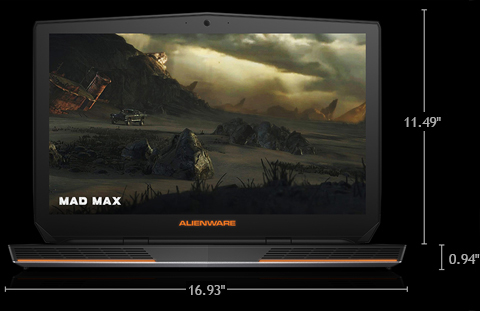 Dimensions & Weight
Height: 0.94 – 1.354" (23.9mm – 34.4mm) ¦ Width: 16.93" (430mm) ¦ Depth: 11.49" (291.9mm) ¦ Starting at weight: 8.33Lbs. (3.78Kg.)
---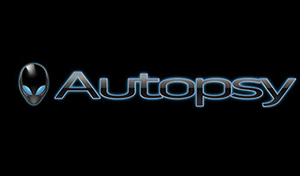 Peace of mind comes standard.
Alien Autopsy comes preinstalled on all new Alienware devices and provides:
Advice and alerts to let you know about issues before they happen and tools to fix issues if they arise
Flexible, automated backup and recovery through Alienware Respawn to ensure that your important documents, pictures and media files remain safe
Easy access to Dell support, warranty information and services, saving time and reducing hassle
---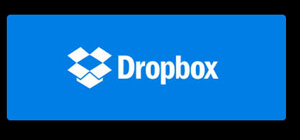 What you need. Anywhere, anytime.
Put your stuff in Dropbox and get to it from any device. Dropbox lets you edit docs, share photos, and show off videos from anywhere. Even if something happens to your PC, your stuff is always safe in Dropbox. Get 20GB of Dropbox space included for a year with your purchase of a new Dell PC.*
*Dell consumer PC or select Venue tablets
By: Moliva
Date Added: 09/14/2017
Rating:
I very interested in this product, can it be shipped to my country? My country is Vanuatu? Thanks
* Delivery Time.
We need 1-2 days to process your order before shipping.There are two shipping methoed. Fast Delivery: The delivery time for US, European countries the delivery will take 3-5 days.Slow Delivery: The delivery time for US, European countries the delivery will take 10-15 days.
* Tracking information.
After we ship package, customer receive automatic email with tracking details.
* Lost Package Policy.
If a package did not arrive in 4 weeks after the shipping date, then this package is treated as Lost. In this case a new package will be shipped to the customer provided we are able to give the same items as those purchased by the customer. If we are not able to provide the same items to substitute the lost ones we will either propose to the customer similar items or refund their cost as it will be mutually agree with the customer. If one or more items neither the same nor similar are available to be shipped, the customer can request to cancel the order entirely, thus the total cost of the order including shipping and handling cost will be fully refunded.